JUNE COMPETITION

As you may know we are once again this year staging our International Coarse Fishing festival with major prize money of 3000 Euro on the June bank holiday weekend in the Republic of Ireland Saturday June 4th, Sunday June 5th and Monday June 6th.
This year's event sees the introduction of some important changes to the format. Alongside the world renowned hot water stretch here at Lanesborough the competition will be staged on two additional sites on an alternating basis at Kilnacarrow bridge (just north of Lanesborough – beside the Bord na Mona peat railway) and Lough Na Blaithi – a renowned fishery near Strokestown (20 minutes away from Lanesborough) . This decision has been made in consultation with anglers who took part last year and in the interests of providing another top quality festival. We have also confirmed with ESB that the hot water pumps will be running at the hot water stretch for the duration of the festival.
Another new feature of this year's event will be the provision of new high quality accommodation and food venues in the Lanesborough area so that competitors can stay locally for the 3 days.  We already have a new fishing lodge open here with special angling rates now available through our office.
The entrance fee has been maintained at 25 Euro per person (20 Pounds Sterling) and entries are now being accepted by e mail at loughreeanglinghub@gmail.com
Entrance fees can be transferred by bank CT and details will be provided when your entry is made.
We look forward to welcoming you back to Lanesborough for the 2016 event. This is a big year for us on the angling front with the staging of the world predator boat event here in October and we will also be staging a number of high profile pike fishing competitions during the summer.
We at the Lough Ree Lanesborough angling hub now operate an office in the town on a daily basis where our administrator Liam Sweeney will be happy to deal with your queries on issues from accommodation bookings, to competition entries and local boat hire – also available for the first time in 2016. Liam's number is 00 353 85 1698032. Hub chairman Hugh Keane can be contacted at 00 353 87 1010032 and Festival Director Philip Gordon can be contacted at 00 353 87 7698468
On behalf of the angling hub we would like to thank you for your ongoing support for this region and assure you of our continued commitment to provide a high quality angling experience here in the months ahead.
We look forward to meeting you and talking to you soon. In the meantime you can find fishing reports and updates on our websitewww.loughree.ie or join us on Facebook at:
Loughree Angling-Lanesborough Ireland

Lanesborough is an ideal base for the Pike angler interested in fishing Lough Ree where you can expect Pike up to 20lbs+. Lanesborough offers excellent facilities for the Coarse Angler. There are three venues from which to choose – The renowned Hot Water Stretch, The Cut and Kilnacarrow.
Lanesborough – Hot Water Stretch
The well known Lanesborough hot water stretch lies along the banks of the river by the bridge. With a constant release of hot water from the Power Station, this venue provides the ideal conditions for coarse fish. Tench, Hybrids, Roach and large Bream abound the waters here. The best time for large Bream is from late March to the end of May but can also be productive at other times. Fishing with a float or ledger are likely to get the best results. In 1998 four specimen Bream were ratified by the Irish Specimen Fish Committee, with fish ranging in weight from 7.71lbs to nearly 9lbs. Tench fishing is best in May and June but can also be good at other times to October.
Below the bridge fishing is off a concrete platform. There is a reed bed dividing the river here. This is a good spot for feeder fishing and best results are likely fishing near the reed beds. River flows may vary depending on the volume of hot water being released from the Power Station. This is a good area particularly for large Tench from mid May to October conditions permitting. Fish to 7lbs have been recorded here. You can expect to get excellent Bream fishing also when conditions are favourable in early summer. Bags to 100lbs + are common with much larger bags possible
During peak season from April to October spaces are generally well competed for and anglers are advised to get their spot as early as possible in the day. The stretch is well baited much of the time by the many visiting anglers who tend to fish here for up to a week at a time.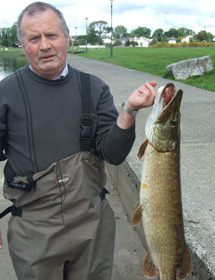 Facilities and Access
There are 40 top quality angling spaces, along a two-tiered platform, which allows for varying river levels. Soaces are above and below the bridge. Upstream of the bridge to the Hot Water Stretch outfall can be accessed by walking up the bank from the bridge on the village side where about 20 angling spaces are available. Below the bridge on the Lanesborough side are approximately 20 spaces located in front of the car park.
Lanesborough – The Cut
The Cut is located on the Shannon downstream of Lanesborough near Lough Ree. There is an island in the centre of the river. Fishing is possible from the main bank and the northern end of the Island. You can expect to encounter large Bream, Roach, Hybrids, Perch and Pike . Best results are likely using feeder with plenty of ground bait . Large bags of Bream are possible here employing the correct tactics. This is an open bank venue. Access is by boat only. There is a Slipway at the Harbour where you can launch a boat. The cut is only a short distance downstream on the opposite bank.
Lanesborough – Kilnacarrow
Kilnacarrow is a very secluded area located approximately 3 kms upstream of Lanesboro. The area fishes best from April to October. It can also fish very well for Roach during the winter and spring months given suitable water levels. You can expect to encounter good Bream, Roach, Hybrids and some Tench, especially during the summer. Ledger fishing at a long cast is likely to produce the best results. About 20 swims are located below the Bord na Mona Bridge on open bank. To get there: From Lanesborough take the Strokestown R371 road at the Sliabh Ban Hotel for about 3kms. You will locate a small road to the right which will bring you down to the Bord na Mona Bridge where parking is available.
Lough Ree – Northern Shores
Lough Ree is a haven for the Pike angler. Lanesboro provides an ideal base for the Pike angler wishing to explore the northern Shores of Lough Ree. Boats and Guides are available in the village, see our contacts list below. Trolling dead bait and plugs will get the best results. In April concentrate close to the margins as the Pike complete spawning. Vary tactics.
Useful Contacts and Services
Fishing Tackle and Bait Stockist
Contact Bridie's Tackle.
Lanesborough CAC
Contact Brian Tabiner at Tel: Outside Ireland: +353 43 21990 Inside Ireland 043 21990
Shannon Regional Fisheries Board
Contact area Assistant Fisheries Inspector Mr John Ryan, Lough O'Flynn, Ballinlough, Tel: 087 253 6064. See the SRFB website for more.
Anglers are requested to:
Always observe our country code and Fisheries Laws
Seek permission from landowners before crossing lands or property
Not park cars in fields
Leave no litter
Keep our countryside clean
Use normal access over footbridges and stiles or where public access is provided.