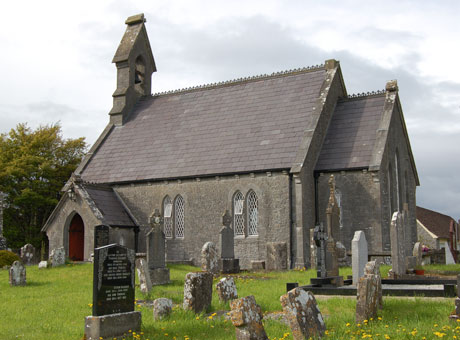 St. John's is Lanesborough's Church of Ireland parish church. The church is part of the Roscommon group of parishes, in the Diocese of Kilmore, Elphin and Ardagh.
The present church is built on the site of a number of earlier churches and an abbey dating back to the beginning of the Christian tradition in Ireland around the 5th Century. An "abbey" here was converted into a church in 1678, by George Lane the 1st Viscount Lanesborough. This church was badly damaged in 1691 by factions returning from the Battle of the Boyne and partially repaired in 1740. It was replaced by the present church in 1862.
The present church celebrated its 150th Anniversary in 2012. Building of this church commenced in 1858 and the church was dedicated on 23rd April 1862. Designed by the Joseph Welland, architect to the Ecclesiastical Commissioners of Ireland, it is of cut stone construction. Casey and Rowan (1993) describe this church as a 'classic example of this architects Puginesque work on a small scale'. Welland died in 1860 two years before the church was completed.
St John's retains its early form character and fabric. It is typical of late nineteenth-century Church of Ireland churches in that it has a bellcote rather than a tower, a shallow chancel and an entrance porch attached to one side of the nave. It is well-built using snecked limestone and has good quality cut and dressed stone detailing throughout, particularly to the bellcote and to the openings.
The bell was cast by the firm Sheridan's at their Eagle Foundry in Church Street, Dublin. It was presented to the church by Col. Henry White MP (of Rathcline) in 1859. The words "Erin go Brath" are embossed around the harp. The attention to detail found at this church is carried through to the well-detailed gate piers and gates. The simple rubble limestone boundary walls and the fine collection of grave markers complete the setting of this appealing church.