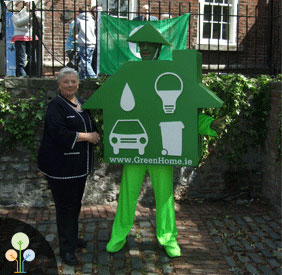 Green Home, website www.greenhome.ie, was developed as a framework to support and advise householders on ways to save money on their household bills while protecting the environment. The programme focuses on the themes of waste, energy, water and transport and extends the Green-Schools message beyond the school gates into the wider community. The Green Home programme can be undertaken by an individual householder or as part of a group.
Getting involved in the Green Home programme couldn't be easier. Using the Green Home Themes tab in the Green Homes website menu, you can access the most current and up to date tips, advice and action plans on ways to prevent and reduce waste and energy use in the home, conserve water and find out about sustainable travel options.
For added extras become a Green Home Member! To register your household, community group or business as member
You can help our community to become greener by registering to become a Green Home member on the website www.greenhome.ie. You can avail of the on-line Green Home survey, mentoring from the Green Home team and you will also be entered into the different competition that is run throughout the year. The Green Home Survey is a tool that enables you to monitor the progress your household has made while participating in the programme. All Green Home members are asked to complete the online survey when they become a member. A graph is generated and this provides the householder with a baseline figure of their household's performance on the four themes. Participants are then encouraged to avail of the online resources and to revisit the survey on completion of these activities. This provides the participant with a pre and post Green Home programme status for comparison purposes as a means to assess any behavioural change.